Born in Russia raised in India, but 100% American!
by Zach
(New Delhi/Oregon)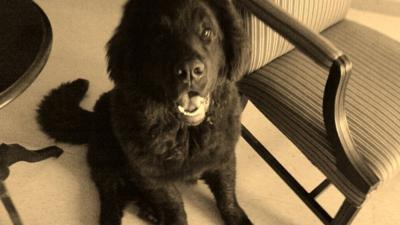 In November 2010, while stationed in New Delhi, India, a gypsy caravan from Russia came through with 2 amazing puppies. These puppies were 4 weeks old and at first looking I new I had to have them.

To my dismay, they had sold Godric's brother the night before and only had him left.

Godric has been raised in New Delhi with me ever since! I am lucky to have a house with full AC, and able to take him to the doggy pool for exercise.

Godric is currently living in New Delhi with a friend as I am stuck in the U.S and am hoping soon to be able to re-unite with my best friend.

He is so confused, as the packs of street dogs do not know what he is, so we are constantly attacked (nothing serious)

I just thought I would shar my short story, to prove, that Newfies can adapt to any environment and make wonderful additions to the family. We are constantly photographed, and stopped on the road (have even caused accidents) because of how rare they are in India.

His pictures are a little old, I feel like he doesnt stop growing, currently at about 135 lbs.
Join in and write your own page! It's easy to do. How? Simply click here to return to Newfie Stories.
Do you know any heroic or funny newfie stories?
Do you have a great story about this? Share it!
What Other Visitors Have Said
Click below to see contributions from other visitors to this page...

Bear ♡ Joyce Walters Not rated yet
A blessing from God I believe. I am I'll and do not get out much. I had fallen into a depression. A friend of mine said I have something to cheer you up. …