Newfoundland Dog Breeders
Finding good newfoundland dog breeders is essential if you are thinking about a newfie puppy.
As newfoundlands become one of the most popular dog breeds, they are being bred more and more by puppy farmers and back yard breeders.
Just to be clear: A puppy farmer (or puppy mill) is one who will keep many different breeds of dog, usually in appalling conditions. These dogs will be kept outside in kennels with the bare minimum of comfort provided.
Their bitches are overbred. They no sooner have a litter and they are being mated once more to provide more puppies to sell to make more money. That is the prime consideration of a puppy farmer - money.
Their puppies will not be registered with kennel clubs. The UK Kennel Club states a maximum of six litters per bitch, but thankfully that is changing to four from next year.
Their dogs will not be vaccinated, so all sorts of horrible diseases can be passed on to the puppies.
The puppies will have had no health checks, no worming, no anything really and are very often sold off at 6 weeks or younger, which is a prime socialisation time for the puppy to learn from his littermates.
There will definitely be no health certificates. The parents' hipscores will not be taken before breeding, so your puppy could well end up suffering from hip dysplasia. No elbow scores or heart scans will have been taken either.
Back yard breeders can be much the same, only on a smaller scale.
Sometimes an owner will breed one litter from her bitch. There is an old wives' tale that it is good for a bitch to have one litter before being spayed, which is quite frankly, rubbish.
These people mean well, and could have very healthy puppies, but they should have those health tests done before breeding. It is vitally important in any dog, but in a newfoundland it is even more important.
None of the above are good newfoundland dog breeders
How to Avoid Puppy Farmers
Puppy farmers are easy enough to spot, if you do your homework.
Never take a puppy that is under eight weeks of age.
Never arrange to collect a puppy from a neutral location - the breeder does not want you to see their premises.
Make sure you see all the puppies, in the house with their mother.
Make sure you have their health certificates, their full pedigrees and their kennel club registration.
Never buy from a pet store, no matter how reputable. They get their stocks from puppy farmers.
If the breeder does not want you to visit before you collect your puppy, alarm bells should ring.
Although many puppy farmers try to charge the same price as a good, health tested, puppy, be very suspicious if the puppy is a lot less than it should be.
In the United Kingdom, the average price of a newfoundland puppy from good lines is between £1200 and £1400. Be very wary if the pups are much cheaper than that.
Good newfoundland dog breeders will want to meet you, will ask about your experience and circumstances, they will want to know how you are with their dogs.
When I first saw Ferdie, having been recommended to the breeder in question, he was 12 weeks old. He had been kept back because of a hernia, which they had already had fixed.
The breeder was perfectly honest about this, told me from the beginning that he was not to be used at stud as hernias can be passed on to puppies, told me there would be breeding restrictions on him. I just wanted a nice natured, big hairy dog, so those things did not bother me.
It was a little late to be collecting a puppy, but he had spent those extra weeks with his friends, and he was well socialised to all their other dogs. And I had experience of large dog breeds, though not as large as these.
I had to meet every adult dog they had before seeing him. Yes, they probably wanted to show off their beautiful, champion dogs, but it also gave them the opportunity to see how I reacted to dogs of this magnitude. All these things were signs of a good newfoundland dog breeder.
How to Find Good Newfoundland Dog Breeders
A good breeder will breed their dogs to preserve and improve the breed. Although they have to cover their expenses, and health tests are very expensive, they are more interested in the puppy's welfare than they are in the money.
Ferdie's breeder could not have made anything on him, as they had paid for all his injections, had him microchipped and paid for his medical treatment. Then they gave me a discount, because I didn't ask for one! There were two other people interested in him, and both had wanted a discount because of his hernia operation. I had fallen deeply in love with him and would not have cared if they wanted more.
The first place to start is the breed club. There are Newfoundland breed clubs all over the world, and they will always advise you as to what you are taking on, and provide you with the name of a good breeder. They have nothing to gain by this freely given information, except to contribute to the welfare of the dogs. They do not want to see another Newfie end up in rescue.
If you live in the United Kingdom, a well respected site for finding a reputable breeder is Champdogs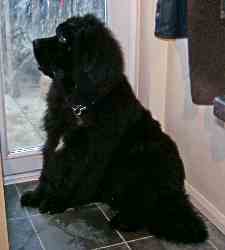 On the Champdogs site you can view your puppy's pedigree. Look for ancestors typed in red - these are champion dogs. You may have to go on a waiting list for a puppy. Breeders of this calibre do not breed all the time and they usually have a waiting list for their puppies. Try not to be impatient, it will be the best thing in the long run. A really good puppy is worth waiting for.
You have decided on a newfoundland puppy, you are excited, can't wait, and you want him now! Trust me, it is not worth it. You may be lucky enough to find a good breeder who has a puppy left; it happens. Sometimes their buyer changes their mind, circumstances change, but if that does not happen, do not rush into the next best thing. You will end up regretting it.
From Newfoundland Dog Breeders to Gentle Newfoundland Dogs