Dog Memorials
I never thought I would have to write this page of dog memorials for a few years yet.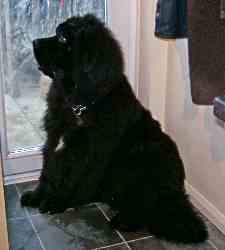 On 9th September 2011, my Joshua was not himself. It seemed he could hardly walk and I thought his legs were playing up.
Then I saw that his gums and tongue were almost white. After blood tests he was diagnosed with septicemia, though from where nobody knew. Blood poisoning is normally caused by an infected wound, but he had no such thing.
After a week of anti-biotics he began to recover, though he was still weak. Throughout that week, though, he was eating and drinking, so everything looked good for him.
He finished his anti-biotics, but was having trouble keeping down food. The vet gave him some syrup to line his stomach and she said that the lab tests on his stool sample had shown internal bleeding.
That weekend he could not keep anything down, not even water, and he was taken into the surgery for two days, where she gave him more anti-biotics through a drip. She had him eating again and he seemed fine, so we brought him home.
But once at home, I could not get him to eat anything. I cooked him fish, scrambled eggs, tuna fish (which he always loved) but he would not eat a thing.
I thought perhaps he was a bit groggy from the sedative they had given him, but the following day he was the same. During the morning he seemed to slip into semi-consciousness and the vet came and took him away on a stretcher. It was but half hour later she phoned to say he had passed away from internal bleeding.
It seems likely that he had a stomach tumour which had ruptured, though there is no knowing for sure.
He was only three years old, the sweetest, most affectionate dog in the world. Ferdie and I miss him terribly.
A kind person sent me this lovely poem:
MY GRANDEST PUP
(author unknown)
I'll lend you for a little while
My grandest pup, He said.
For you to love while he's alive
And mourn for when he's dead.
It may be one or twenty years,
Or days or months , you see.
But, will you, till I take him back,
Take care of him for me?
He'll bring her charms to gladden you,
And should his stay be brief,
You'll have treasured memories
As solace for your grief.
I cannot promise he will stay,
Since all from earth return.
But, there are lessons taught on earth
I want this pup to learn.
I've looked the wide world over
In my search for teachers true.
And from the throngs that crowd life's lanes,
With trust, I have selected you.
Now will you give him your total love?
Nor think the labor vain,
Nor hate Me when I come
To take him back again?
I know you'll give him tenderness
And love will bloom each day.
And for the happiness you've known!
Forever grateful stay.
But should I come and call for him
Much sooner than you'd planned
You'll brave the bitter grief that comes
And someday you'll understand.
For though I'll call him home to Me
This promise to you I do make,
For all the love and care you gave
He'll wait for you, inside Heaven's Gate.
For a much loved Newfoundland Dog, there are the wonderful lines written by Lord Byron
This page is for anyone who has lost a beloved dog through accident or illness. We all know how hard it is to part with a loved dog - this page will be for your own dog memorials.
Let this page be your memorial to your beloved dog, whether it be a newfie or any other dog. They are all loved and will never be forgotten.
Have you lost a beloved dog?
Tell your story of your beloved dog here. Post your poems, memorials, stories.
What Other Visitors Have Said
Click below to see contributions from other visitors to this page...

From Dog Memorials to Gentle Newfoundland Dogs