Jake......the love of my life
by Lynnette Lewis
(Ontario, Canada)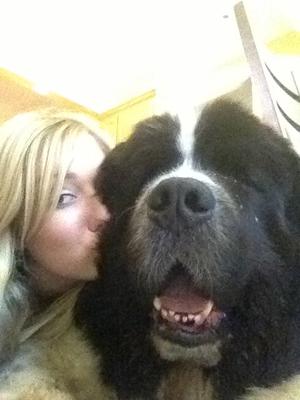 Jake with his
Jake entered our life at 8 weeks of age. At the breeders, looking at his 210lb dad, I said, "what have I gotten myself into!" But one look into his beautiful eyes and I was hooked. He was a Landseer Newf. Not quite reaching his dads size, he topped out at 185! Gentle giant doesn't even begin to do justice to this breed. He was my shadow and big brother to my children. And he was every visitors favorite distraction, always worming his was into everyone's space looking for hugs and pets. Out in public, he drew gasps and ooohs and walks took forever to finish as he was always being stopped to be be admired and touched. He LOVED the attention. Sadly, after just shy of 7 yrs, we lost him to a neurological disease called Mylopathy. His back end failing, I had to make the toughest decision of my life. His quality of life was almost nonexistant and on March 28th, 2 weeks shy of his 7th birthday, my vet came to the house and ended his pain. He died surrounded by our whole family, in his favorite spot, on his favourite blanket, smothered in our hugs and tears. It's been a year and a half now and not one day goes by without a thought and a tear. He was the love of my life and will always be......
Join in and write your own page! It's easy to do. How? Simply click here to return to Dog Memorials.
Do you know any heroic or funny newfie stories?
Do you have a great story about this? Share it!
What Other Visitors Have Said
Click below to see contributions from other visitors to this page...

Bear ♡ Joyce Walters Not rated yet
A blessing from God I believe. I am I'll and do not get out much. I had fallen into a depression. A friend of mine said I have something to cheer you up. …